Whitepaper: Offshore versus Domestic Coding
DOWNLOAD NOW:
Is Offshore Coding Really Saving You Money?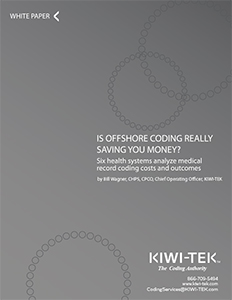 Revenue cycle and HIM professionals alike express common frustration in the lack of a quantifiable, comprehensive study that compares the two outsourced coding options.
KIWI-TEK took on the challenge and partnered with six healthcare systems to compare domestic versus offshore coding outcomes.
Key coding outcomes included in this report cover variations between the impact of domestic and offshore services on productivity, accuracy, training, denials, and more.