Coding Partnerships
KIWI-TEK provides peace of mind with consulting, strategy and implementation
Consulting, strategy
and implementation
We offer coding partnerships tailored to your hospital, clinic or physician group regardless of size, specialties and workloads.
You can choose whatever and how much coding you require, from PRN to just a few specialties to a complete partnership coding program.
Our Coding Partnership Approach

Customize a coding plan that will most cost-effectively handle your varying coding requirements

Help you contain operating expenses and maximize return on your coding investment

Contribute to improved health care through more responsive, more accurate and more definitive coding
Sometimes 
revenue cycle complexities require more than a coding vendor to come in and help with your backlog.
KIWI-TEK is the partner who goes beyond your basic coding needs.
We provide an integrated coding partnership to clients, serving as an extension of your HIM and/or revenue cycle team.
With experienced and credentialed coders from across the nation, our management and audit teams take full responsibility for the training, education, quality and scheduling of the coding team. We align with your organization's current policies, workflows and procedures while sharing best-practice models.
"KIWI-TEK has a tremendous team. After 10 years of service, they're always responsive and helpful. It feels like they're taking care of us. Any time I call or email, they're on it. They care and want to help us. We're not just another number to them."
Tracy G. Hickey, MBA, RHIA, CPHI, CHTS – CP, FAHIMA
Director, Health Information Management
West Tennessee Healthcare
Coding Partnership Benefits
Valuable
feedback for process and documentation improvement
Immediate
responses and prompt action to any requests you have
Shared
responsibility for your backlog and denials goals, including scalable coding support to maintain goals
Credentialed
and vetted coders with access to ongoing continued education
Fast-track Your Coding Strategy
A How-to Guide for Today's HIM Leaders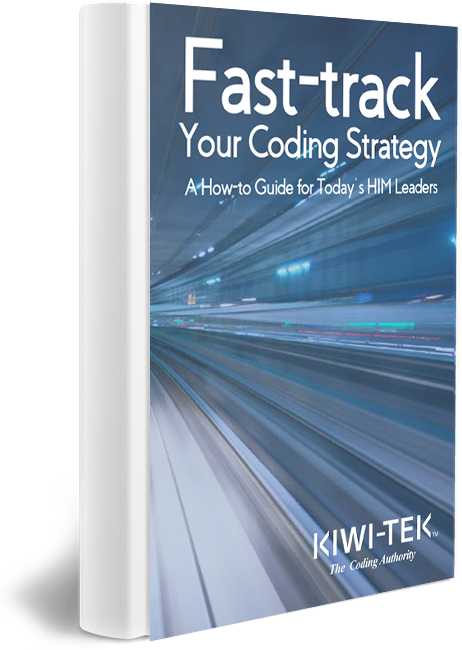 Fast-track Your Coding Strategy
A How-to Guide for HIM Directors