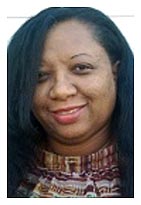 On August 7, 2020, Temeka Mason Davis, a beloved wife, mother, colleague and employee, lost her battle with COVID-19.
In 2008, Temeka Davis, RHIA, RHIT joined KIWI-TEK, LLC as a medical coder. Due to her knowledge and expertise, Temeka was promoted to Assistant Coding Manager in 2010, one year later in 2011, promoted to Coding Manager. Temeka was a natural leader; nurturing, training, and mentoring dozens of coders assigned to her as she helped KIWI-TEK's reputation and business grow. Due to the company's fast growth, she was frequently asked to take on new clients and she would immediately deliver high results. Temeka quickly gained a reputation as an expert on her client's revenue cycle workflow and was often asked to collaborate with their in-house experts to strategize upgrades and improvements. She always strove for perfection in a field where perfection is impossible to achieve.
Her legacy is that of a soft spoken, gentle, kind spirit who would not back down to any challenge and gained satisfaction through helping and teaching those around her.
Prior to her career with KIWI-TEK for 12 years, Temeka worked as an inpatient coder for ST Vincent's Health System in Birmingham, AL from 2007 to 2008 and as a DRG Specialist for the University of Alabama Health System from 1996 to 2007, and as a Medical Information Coder from 1994 to 1996.
Temeka earned a Certificate as a medical Record Technician from UAB inn 1994 and an Associate Degree in Applied Science from Walker College in 1992.