A Medical Coding Company that Respects Partnerships
KIWI-TEK is the only medical coding company that provides peace of mind with coding partnerships that include consulting, strategy and implementation.
Consulting, Strategy and Implementation
Unlike your average medical coding company, we offer coding partnerships tailored to your hospital, clinic or physician group regardless of size, specialties and workloads.
You can choose whatever and how much coding you require, from PRN to just a few specialties to a complete partnership coding program.
Our Coding Partnership Approach

Customize a coding plan that will most cost-effectively handle your varying coding requirements

Help you contain operating expenses and maximize return on your coding investment

Contribute to improved health care through more responsive, more accurate and more definitive coding
Sometimes revenue cycle complexities require more than the average medical coding company to come in and help with your backlog.
KIWI-TEK is the partner who goes beyond your average service needs. We provide an integrated coding partnership to clients, serving as an extension of your HIM and/or revenue cycle team.
With experienced and credentialed coders from across the nation, our management and audit teams take full responsibility for the training, education, quality and scheduling of the coding team. We align with your organization's current policies, workflows and procedures while sharing best-practice models.
"KIWI-TEK has a tremendous team. After 10 years of service, they're always responsive and helpful. It feels like they're taking care of us. Any time I call or email, they're on it. They care and want to help us. We're not just another number to them."
Tracy G. Hickey, MBA, RHIA, CPHI, CHTS – CP, FAHIMA
Director, Health Information Management
West Tennessee Healthcare
Coding Partnership Benefits with a Reputable Medical Coding Company
Valuable
feedback for process and documentation improvement
Immediate
responses and prompt action to any requests you have
Shared
responsibility for your backlog and denials goals, including scalable coding support to maintain goals
Credentialed
and vetted coders with access to ongoing continued education
Fast-track Your Coding Strategy
A How-to Guide for Today's HIM Leaders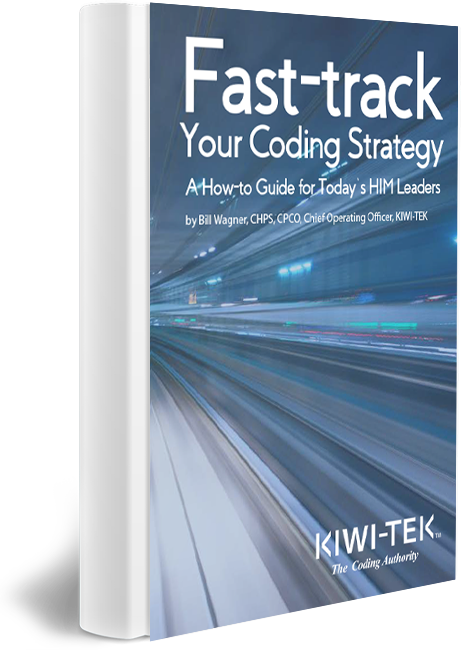 How should you invest in medical record coding?
First, Uncover the Myths. 
Myth #1   A medical coding company is more expensive than in-house staff.
With a preponderance of medical record coders, many executives believe using in-house staff is less expensive than investing in a coding partnership. Here's why that's not the case.
Coding Errors Increase Cost and Denial Risk
Unqualified and inexperienced coders increase payer denials and recoupments. High coding error rates raise red flags for targeted audits and poor quality scores.
Fully Loaded Budgets Cost More than Outsourcing
Benefits, training, onboarding, continuing education and more. In-house budgets fully loaded are higher than most medical coding company fees.
Internal Coding Auditor Salaries are Higher
In-house staff must be managed and audited by highly trained coding experts. Additional time and money are a necessity.
Myth #2 Offshore is cheaper than domestic.
Around 2012, healthcare executives began to look more closely at cost savings to offset the looming expense of ICD-10 preparation. Possible revenue cycle interruptions, productivity concerns and cash flow worries led to an unprecedented offshore medical coding company usage in 2015 and 2016. Healthcare organizations were willing to take any resources that they could find. The offshore boom uncovered a new issue—the cost of quality coding.
A study across six health systems calculated the disadvantages to offshore. Here are a few stats from the study below or you can download the full white paper here.

per week vs. 150 per week
Denied claims with domestic versus offshore coders, respectively

third party audit challenges
averaged this percentage

additional hours per coder
per month of auditing required for offshore coders due to poor accuracy results
KIWI-TEK has more specific and targeted coding experience than any other medical coding company or in-house coding department. We do not offer a conglomeration of healthcare services. Medical coding and auditing is all we do.
Guaranteed Results
We promise to meet or lower your current coding costs while outperforming target revenue cycle benchmarks.