In an effort to control the spread of the pandemic and to focus on COVID-19 patients, providers were directed in March to cancel elective surgeries and all other non-urgent patient visits. Up until that time, patient volume by type of visit was fairly predictable, which helped with staff planning and forecasting revenue cycle metrics. Very quickly, same day surgeries, emergency department visits and other outpatient services saw a drastic reduction in patient volume.
Hospitals across the U.S. are losing more than $1 billion in daily revenue as they experience significant declines in patient volume during the pandemic, according to a report from Crowe, a public accounting, consulting and technology company. Across all service lines, COVID-19 pushed the number of unique patients who sought hospital care down by an average of 54.5%, according to a year-over-year analysis from Strata Decision Technology.
While the major focus was, and still is, on delivering patient care and stopping the spread of COVID-19, most of the attention has been on health system financial struggles and the need for more government assistance. Even more focus has been on, and rightly so, the front-line clinicians and the risks they take to provide care. Other high-profile topics include the boom in telemedicine technology, the stress on physician practices, reopening guidelines and resurgence.
Very little attention has been paid to the impact on HIM departments, particularly considering that coding professionals who had been coding inpatient, outpatient and professional fee cases for years suddenly had no work. Thousands of dedicated, experienced, certified coders have been forced to accept furloughs, layoffs or termination due to the huge decrease in patient volume caused by the pandemic.
As a member of the Facebook group, Jobs for American Medical Coders, (JFAMC), I have had access to many of the heart-rending posts by experienced coders who have lost their jobs due to budget constraints and reduced patient volume. With the cooperation of Pam Kulczar, the site administrator, I recently posted a survey on JFAMC to ask members how the pandemic has affected their career.
The results are eye opening. While about a third of the respondents still had their jobs, 39% have been furloughed, 16% laid off and 11% terminated. Here are some of their comments:
"I am struggling to wrap my head around the fact that a health crisis has significantly changed, detrimentally, our healthcare vocation."
"I have been a coder for 25 years and I have never seen this happen. I do believe it will turn around. It is going to take some time."
Of those furloughed or laid off, 48% have not been given any time frame for returning to work, and 48% have been out of work for more than 60 days. Some respondents remain hopeful:
"Wishing everyone well in this tough time. If you are out of work, keep your head up and stay positive. Things are slow to get back to normal."
"This is not an easy field to break into or be in. This pandemic has only made it worse. I believe things will get better."
Others felt mistreated:
"More than half our staff was furloughed here but offshore workers from India were kept and given remote access."
Of those who are out of work, 9% are inpatient coders, 22% were coding outpatient, and 36%, the largest group, are professional fee coders. Most of the remaining 32% are HCC coders. It is interesting that the vast majority of current openings listed online are for HCC coders.
The experience level of the respondents does not appear to be a factor in their employment situation:

Some observations from respondents:
"My job is going overseas. This has to stop!"
"I was not laid off after being with the company for two years, but others who have been there longer were."
"I have eight credentials and can't even get a callback from any place where I have applied. I have no hope for my coding future. All my hard work was for nothing."
Both AHIMA and the AAPC have reduced their fees for education and testing during this difficult time. This generous gesture serves the 49% of respondents who have spent time studying to stay current or to achieve a certification.
It should be noted that 57% of respondents had to seek government assistance in some form to help with living expenses. 30% said their unemployment has had a moderate, manageable impact on their personal financial situation. In addition, 25% reported that their personal financial situation has been significantly affected and are concerned about their future, and 3% said their financial situation is disastrous and they will struggle to recover.
"I increasingly worry about the stimulus running out at the end of the month. If it is not extended and I am still out of work, I have no idea what I will do. I can't find a position anywhere that will pay this and I am single so no spousal support. I am worried."
In spite of the uncertainty and hardship, 70% of those unemployed are committed to continuing their HIM career. Another 26% have some concerns about their HIM career and will keep other options open. The positive outlook by many who have suffered is inspiring.
"Keep your chin up! We will get through this trying time!"
"Continue to move forward with expanding skill sets to maintain and grow marketability."
 "Leave no stone unturned!"
"Hang in there even though it is tough right now. As my grandmother always said, 'This too shall pass'"
While health systems and their HIM departments are struggling to survive the pandemic and stay afloat financially, we must keep in mind that there are thousands of experienced, certified American medical coders who have dedicated their lives to their profession. They have endured financial instability, job insecurity, and uncertainty about their future and that of their families. We all need to do our best to support and encourage them to stay strong and embrace the new normal.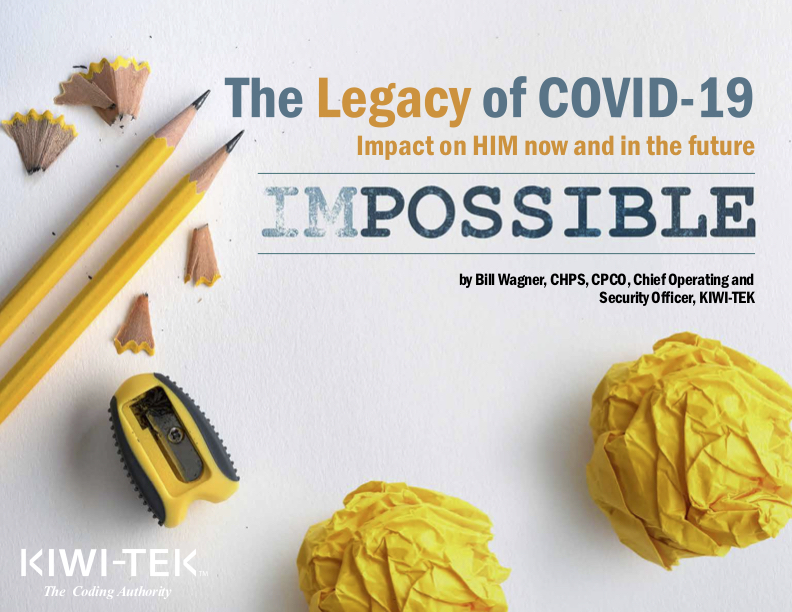 The Legacy of COVID-19
Impact on HIM now and in the future