According to a survey conducted by Slack, newly remote knowledge workers1 are struggling to adapt to home-based offices and virtual collaboration realities during COVID-19's mass office exodus. Slower paced communication across teams often evolves into bigger productivity issues negatively affecting a worker's sense of belonging and satisfaction. For hospital HIM and revenue cycle departments, the challenges are even greater.
Healthcare must also consider protected health information (PHI), patient privacy, security and HIPAA. Due to the sensitivity of accessing PHI remotely, IT resources were brought in during the early days of the crisis to ensure secure connections and configure equipment for new remote workers.  Human resources had to be involved to modify workplace rules. Disparate departments were forced to collaborate virtually.
AHIMA's HI Pitch Podcast host Dan Kelly interviewed Dianne Chappelle, MPA, RHIA, corporate director of HIM operations at New York Presbyterian Hospital in Manhattan about the remote changes her team faced in the early stages of the COVID-19 pandemic. Here are three highlights: 
Laptops were ordered, WiFi installed and VPN and dual access was granted in about 1-2 weeks.
Everyone brought laptops home, tested and got IT assistance where needed.
Weekly team rotations between remote and on campus were implemented.
While some HIM teams are slowly returning to the office, many are considering long-term virtual HIM.
Long-term virtual HIM
As HIM managers consider long-term virtual HIM, they will need new ways to  keep staff motivated and productive.  We first offered tips for managing a remote workforce back in 2015, and many of them still hold true today:
Communicate like you're on site
Set clear performance expectations
Provide ongoing training and feedback
Keep remote employees engaged
This blog post is from our series COVID-19's legacy and the impact on HIM. Next week we will focus on capturing documentation and incorporating new coding guidelines for telehealth visits. If you're not on our mailing list, please be sure to sign up here.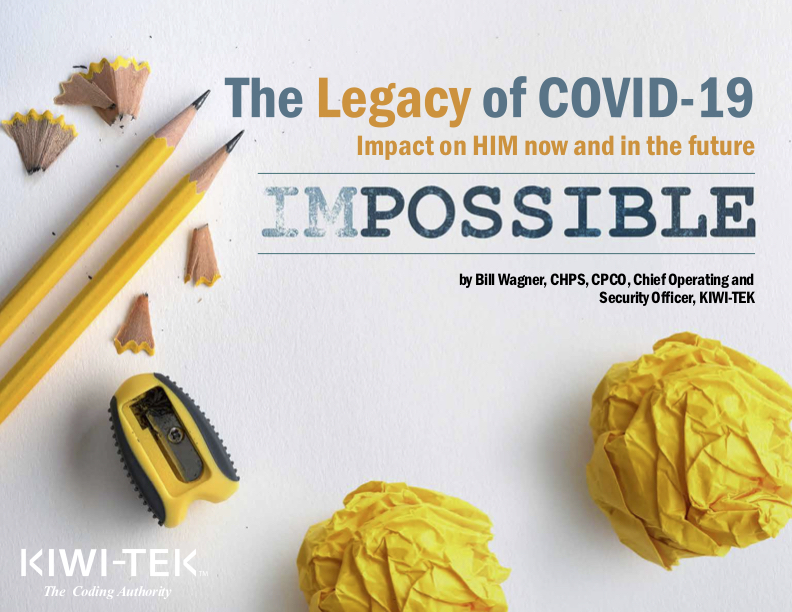 The Legacy of COVID-19
Impact on HIM now and in the future