ICD-11 Is Coming, or Is It?
ICD-11 is the newest version of the International Classification of Diseases. It was presented by the World Health Organization (WHO) and approved at the World Health Assembly (WHA) in May 2019 for adoption by member states. However, the earliest any country may begin using ICD-11 is January 1, 2022 and there is no deadline to complete its implementation. We all have some time. Countries will implement at different times, which is good news for America's hospitals.
Moving to ICD-11
Having updated to ICD-10 only four years ago, talk of moving to ICD-11 may seem premature to many in the United States. Reality reveals a different scenario. Instead of ICD-11 being premature, the U.S. was extremely tardy in implementing ICD-10. In 2015 we were simply playing catch up with the rest of the world as the last WHA member to implement the new coding nomenclature. By the time U.S. hospitals began using ICD-10, it was already out of date. Here is a brief historical timeline of the last several versions of ICD approved by WHO.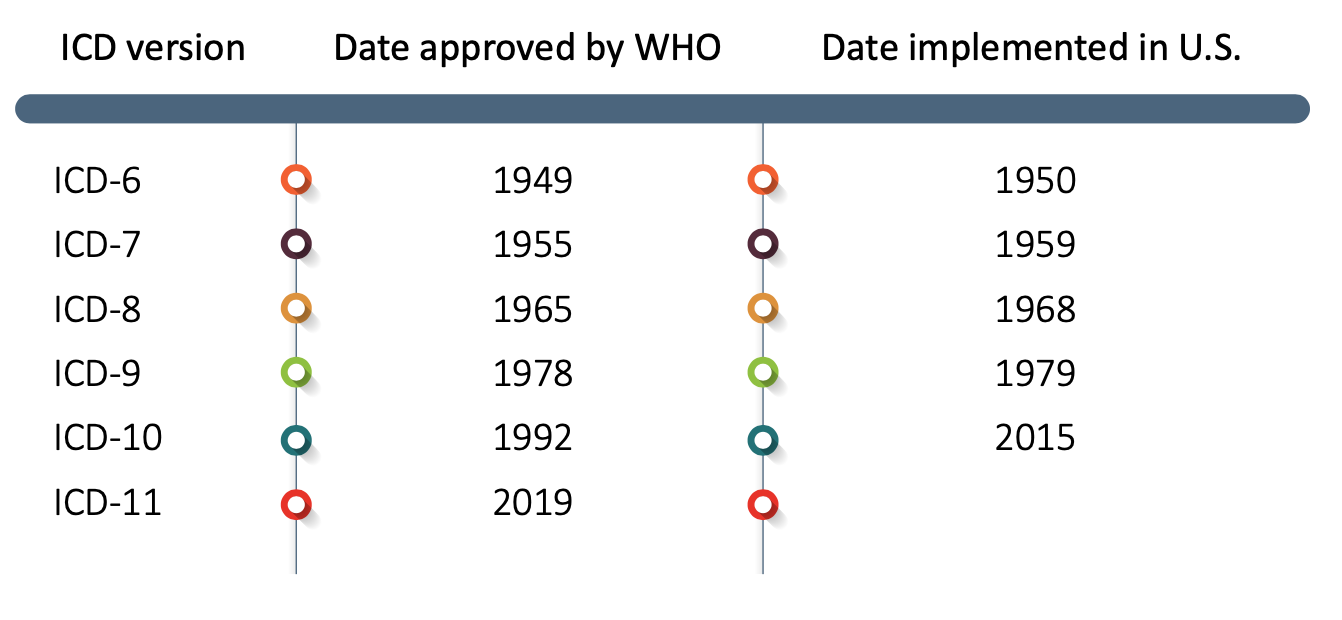 The official name of the next version is ICD-11-MMS (ICD-11 for Mortality and Morbidity Statistics).
What's Different with ICD-11?
With the massive effort to implement ICD-10 still fresh in our minds, updating again in 2022 may appear daunting. However, the latest version has been designed to make adoption less challenging and the coding system more modern, more comprehensive, and most important, more easily integrated with electronic health records. About 300 specialists of 55 countries, organized in 30 main working groups, provided input to make ICD-11 scientifically up to date and easier to use.
This fully electronic version includes a reference guide, an online coding tool and a browser.  Here are some significant changes noted by WHO:
Structural problems that became apparent using ICD-10 have been solved.
The ontological infrastructure allows for improved user guidance compared to ICD-10.
Primary care, cancer coding, traditional medicine (currently module 1: ancient Chinese medicine—China, Korea and Japan) and a section for assessment of functioning are now included.
Specialty versions, as for mental health, primary care and dermatology are produced from the common core, the foundation.
ICD-11 is multilingual. The tooling produces all files and formats from the core translation tooling on the maintenance platform. For authorization of translations, requests must be made to WHO.
Uniform resource identifiers and the ontological underpinning make ICD-11 digital health (formerly e-health) ready. The system enables connection of any software through a standard API. The same package is also prepared for use offline.
All content, structural information, references and descriptions are in a machine-readable format. The content is then rendered for machine or human use, electronically or in print.
A major focus of ICD-11 is to support better morbidity data collection. The new edition carries about 55,000 codes for injuries, diseases and causes of death. By comparison, ICD-10 had 14,400 codes. Here are some of the major changes.
Codes related to antimicrobial resistance align more consistently with the Global Antimicrobial Resistance Surveillance System.
Improved identification of data on healthcare safety is available to record harmful health events.
New categories include traditional medicine, sexual health and new addictive disorders such as gaming disorder.
Two new coding functions are extensions and clustering to ensure more accurate diagnostic descriptions.

Extension codes allow for additional information such as POA, severity and detailed anatomic information.
Code clustering allows multiple codes to be combined to achieve more specificity in diagnosis.
Let's Get Practical: When Should We Start to Prepare?
It is difficult to take the January 1, 2022 date seriously after the interminable delay of ICD-10. I predict the U.S. will not be so far behind again. It is also undetermined whether the U.S. will create a modification of ICD-11 as it did with ICD-10 CM. That, in itself, would cause a delay in development.
The WHO browser, content and transition guide for ICD-11 at https://icd.who.int/en are good primers to begin familiarizing your organization with the most significant elements and changes. IT staff should be encouraged to begin working with revenue cycle software providers and vendor partners on understanding ICD-11 preparation tasks and timelines. Finally, stay tuned for announcements from HHS, CMS, AMA and other industry organizations for updated information on the move to ICD-11.