Is Offshore Coding Dead in the Water?
By Sarah Elkins
For The Record
Featuring Bill Wagner, CHPS, CPCO and cofounder of KIWI-TEK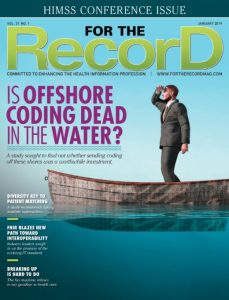 In September 2018, Bill Wagner, CHPS, chief operations officer and cofounder of KIWI-TEK, showed up to the AHIMA Convention in Miami armed with a new study. His presentation, "Is Offshore Coding Really Saving You Money?," offered a fresh and data-driven perspective on an ambiguous issue.
Wagner, whose company has been providing medical coding solutions since 2002, had discovered offshore coding wasn't the panacea it seemed to be at the beginning of the ICD-10 transition—a discovery that might have gone unrealized if not for a chance conversation in 2017.
"I was approached by AHIMA leadership at the national convention in Los Angeles in 2017. They had mentioned they were being challenged to take a position on offshore coding. In order for them to take a position, they were looking for any kind of study or analytics that had been done on offshore coding compared to USA domestic coding," Wagner says.
AHIMA needed reliable data in which both offshore and domestic coders were employed for the same client, during the same timeframe, and for the same types of patients. They hoped to see a comparison of productivity, accuracy, denial rates, and training time.
"Well, I have all of that," Wagner told them.
At the time of that informal conversation, KIWI-TEK had ceased employing offshore coders for about a year, but it had previously had a robust offshore workforce during the ICD-10 onboarding years. Wagner began thinking maybe there was an important story hiding in KIWI-TEK's coder performance reports. Thus began the data mining that would become the study presented a year later in Miami. Even he would be surprised by the story the numbers told.
Throughout the course of his analysis, Wagner discovered three things: 
Offshore coding is more expensive than domestic coding
Offshore coding poses HIPAA compliance issues
There is no coder shortage in the United States.

 
And, he delivered the numbers to support his claims. Click here to view the full article »
How Should You Invest in Medical Record Coding?